Southampton woman wins a new car – with her initials already on the number plate
When Louise Le Grande bought a ticket to win a brand new car she was one of thousands hoping to win a Ford EcoSport from Hendy in a lottery to raise funds for Cancer Research UK.
The car was part of football legend Francis Benali's latest fundraising efforts; including the car lottery, Benali's Big Ball and a massive fundraising auction.
Louise, however, had extra reason to want to be picked as the winner, in a bizarre coincidence her initials were on the prize car and the family was actively looking for a second car.
Louise remembered discussing the number plate with the Benali fundraising team when she bought the ticket at WestQuay in Southampton and was amazed when she was phoned live from Benali's Big Ball to be told she was the winner.
"I just couldn't believe I had won," said Louise from Southampton. "I joked that I hoped my ticket would win as the number plate had my initials but really didn't think that I would be that lucky!"
Francis presented the car to a delighted Louise and her husband Spencer at the Hendy FordStore in Eastleigh.
"Our fundraising efforts have now broken the £600,000 barrier and I'm so grateful to everyone who has helped," he said. "It's great to be able to hand over a brand new car and thanks to Hendy for donating such an amazing prize."
And in another coincidence it was Francis's wife Karen who sold the winning ticket to Louise and remembered talking about the number plate at the time.
"I was at almost all of the ticket-selling events and I vividly remember talking to Louise about the car," said Karen. "We're all so pleased the car has been won by such a nice person and were all amazed when she arrived to collect the car and we remembered the number plate coincidence."
Hendy commercial director Mark Busby said the group had been thrilled to be involved in the latest Benali fundraising efforts.
"Franny's achievements and his tremendous commitment to raising money for Cancer Research UK are truly amazing and we are pleased to have played a small part in his efforts to support the charity," he said. "And for Louise's initials to be on the car is amazing – it is a random number plate and the odds of the car having the winner's initials are pretty remote but a great coincidence!"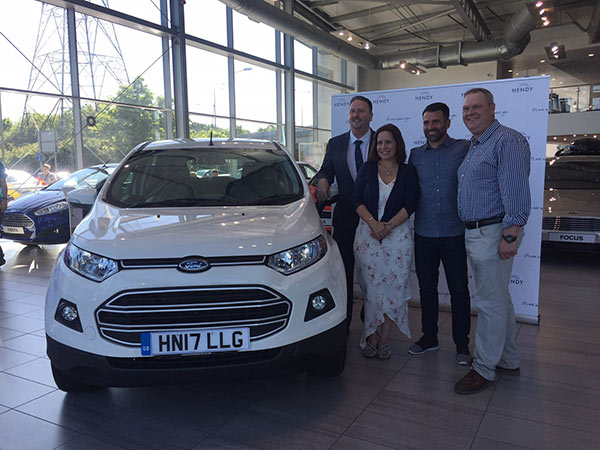 Donate
Right
Now