Homeward bound
Francis Benali is heading for home!
The former Saints defender has reached the furthest point on his epic adventure to every Premier League and Championship ground.
The 47-year-old is running a marathon and cycling a further 75 miles every day for a fortnight to raise money for Cancer Research UK.
Now he has got as far as Newcastle and has turned south to begin the homeward trek.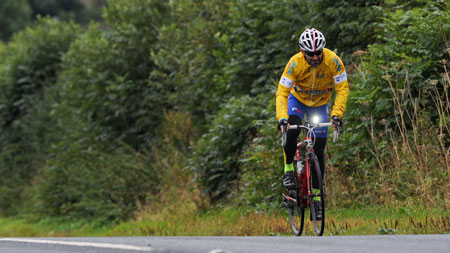 "It's not exactly all downhill from here because there is still some tough terrain to go... but at least it feels like I am heading home now.
"Psychologically that is really important. No longer am I running and riding away from Southampton, I am on my way back which is a big boost.
"There is still a long way to go and it will be very gruelling especially as the fatigue kicks in even further but at least I have Southampton in my sights - albeit long-range telescopic ones!
"It was incredibly tough cycling across the North Yorkshire Moors from Burnley towards the North-East and my legs really felt the strain of getting up those hills.
"But now that I have sling-shot around Newcastle, I can start to focus on the end of this challenge."
After visiting Sunderland and Middlesbrough on Saturday, Benali goes to Hull City on Sunday then across to Leeds on Monday for a demanding day visiting five Yorkshire clubs.
To donate simply text Fran to 70200 to give £5.
Donate
Right
Now